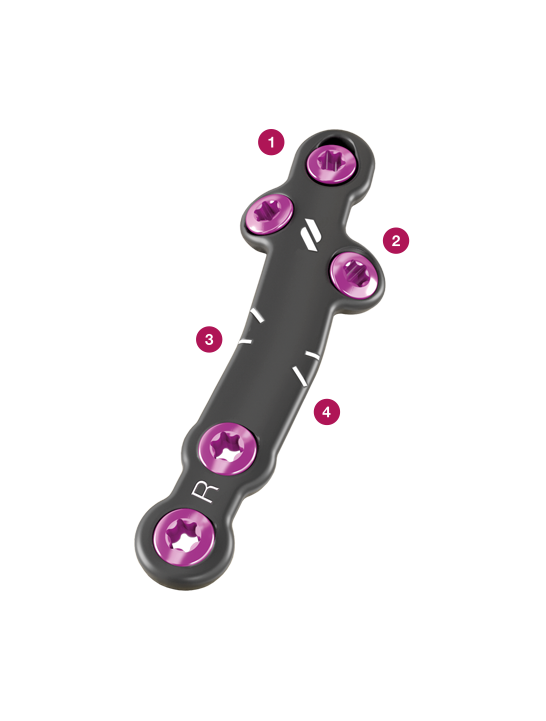 Plot de compression standard :
Délivre 1.5 mm de compression additionnelle.
Situé dans les zones à forte densité osseuse.
Compatible avec les vis non-verrouillées 3.0 mm.


Plot universel :
Logement fileté pour vis verrouillée ou non verrouillée 3.0 ou 3.5 mm.

Repère ligne d'arthrodèse :
Positionnement précis de la plaque par rapport à la ligne d'arthrodèse.

Repère vis plantaire :
Positionnement exact de la plaque MTP par rapport à la vis interfragmentaire.

Les vis verrouillées et non verrouillées Airlock® Ø3.0mm et Ø3.5mm peuvent être utilisées dans tous les trous de fixation des plaques Airlock. Cependant, le trou de compression standard ne peut recevoir que des vis non verrouillées de Ø3.0mm, et le trou de compression Presslock® ne peut recevoir que des vis verrouillées de Ø3.5mm.
Une compression plantaire supplémentaire peut être obtenue avec une vis compressive Nexis Ø4.0mm, une vis biseautée PECA Compressive Ø4.0mm ou une vis compressive Nexis Ø5.0mm.
Toute l'instrumentation est organisée de manière pratique et codée par couleur (voir ci-dessous).


Capacité monoaxiale et polyaxiale
Vis verrouillées mono-axiales
Vis non-verrouillées polyaxiales
Tête conique
Conception auto-taraudante
Interface tournevis / vis à retenue automatique
Airlock avec l'instrumentation Presslock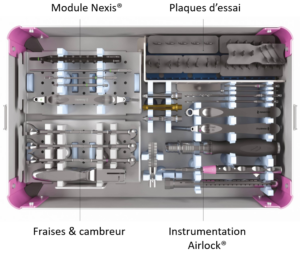 Airlock 2.0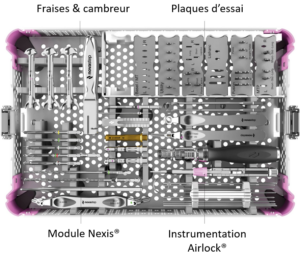 Airlock 2.0, boite distracteurs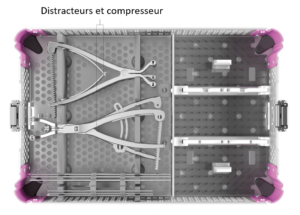 AirlockGO® – Option
AirlockGoTM combine le système de plaque Airlock® de Novastep et les kits d'instruments à usage unique cleanSTART®, emballés de manière stérile, avec une sélection de vis compressive Nexis® Ø4.0mm ; l'utilisateur dispose ainsi d'une unité autonome et tout compris qui répond à une gamme de pathologies du pied et de la cheville.
Chaque boîte AirlockGOTM présente une configuration unique et spécifique à la procédure d'implants et d'instruments comprenant des plaques précontraintes low profile, des vis compressive monoaxiales verrouillables et polyaxiales non verrouillables.
Tous les kits d'instruments et les implants sont emballés individuellement de manière stérile avec des étiquettes matricielles autocollantes conformes à la norme UDI.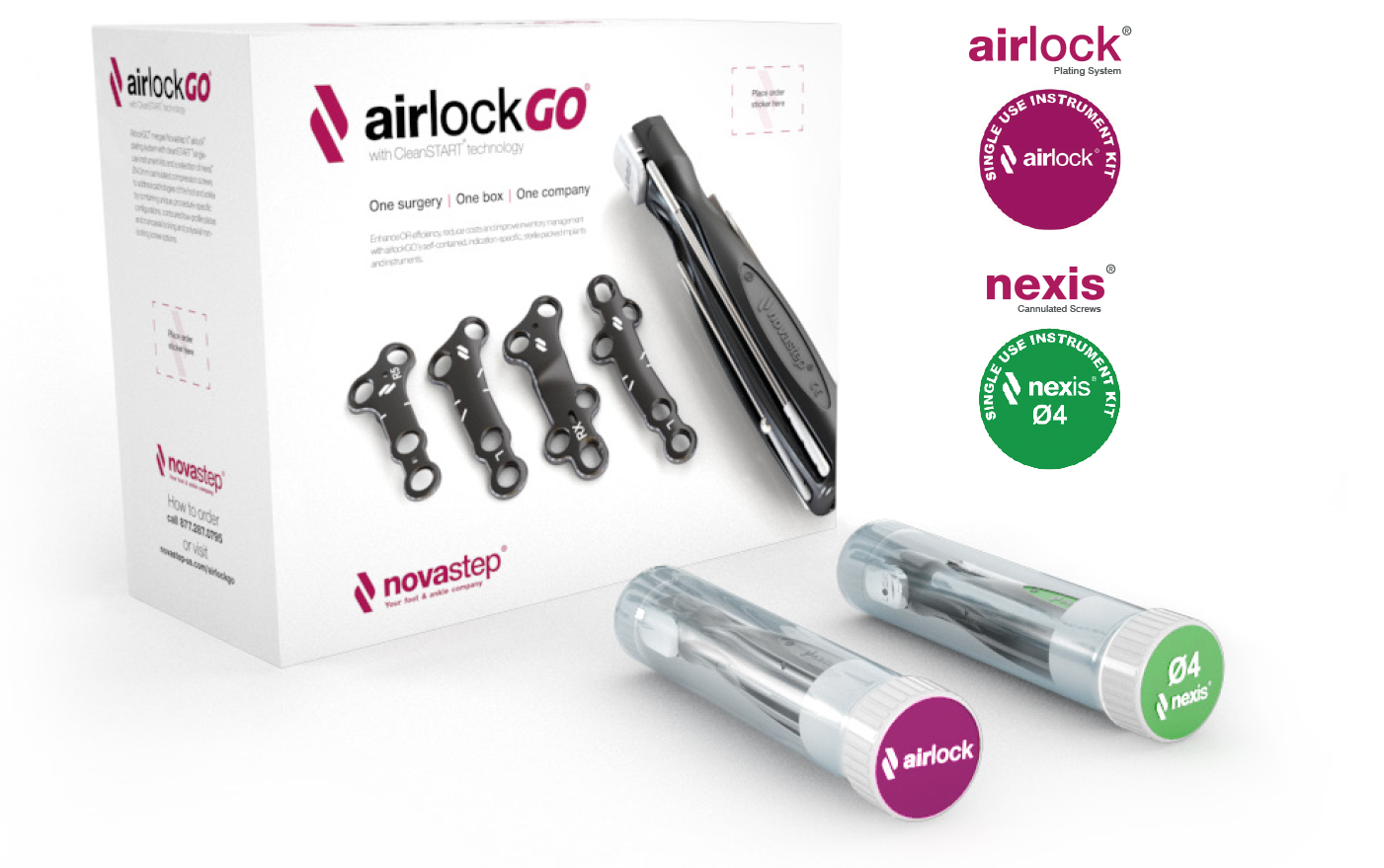 Standard & Short MTP Plates
The unique screw hole design of the MTP plates keep the overall thickness to less than 1.4mm. The anatomic plates are designed with 0° dorsiflexion, delivering 15° of metatarsophalangeal dorsiflexion while preserving 10° anatomical phalangeal valgus.
The linear ("non-clover") distal column allows the plate to be seated underneath the EHL tendon and away from the surgical incision to reduce the risk of post-operative infection or hardware protrusion.
These low-profile plates allow treatment of patients with very thin tissue envelopes. The standard and long plates have a proximal oblong hole for an additional point of fixation and compression.
Long (Revision) MTP Plate
This plate was designed to reduce irritation to the soft tissue structures surrounding the MTP joint, by tapering the distal and proximal ends of the plate to a thickness of 1.35mm.
For improved strength, the plate increases in thickness to 1.6mm along the joint line.
The long plate includes a porthole for the insertion of graft into the fusion site once the plate is secured. This hole will also accomodate a Nexis® Snap-off screw, to secure any cancellous graft in place.
Avant d'utiliser les systèmes Novastep®, lisez attentivement la technique chirurgicale, le mode d'emploi (IFU) et toutes les informations de l'étiquette de l'emballage relatives aux implants et aux instruments médicaux.
Implants: Classe IIb-CE1639; Instruments: Classe I-CE / Classe IIa-CE1639.